First of all, I will have to apologize beforehand for any potentially infectious fangirling. Any injuries sustained while reading this is not under my responsibility. Read at your own risk...
~~~~~~~~~~~~~~~~~~~~~~~~~~~~~~~~~~~~~~~~~~~~~~~~~~~~~~~~~~~~~~~~~~~~~~~~~~~~~~~~~~~~~~~~~~~
So this is hands down my favorite drama thus far in my Korean drama journey. No big deal. But actually this is a big deal. I'll be honest and say it took one whole year for me to finally pick up this drama. I first heard of it from listening to its OSTs on weekly K-pop countdowns on Youtube. I didn't really give the actual drama much thought (I was so ignorant and foolish back then...) and thought the OSTs were decent (yeah... really stupid back then....). Anyways, I was bored during Christmas break and vaguely remembered a lot of my Korean friends raving about this drama. Thus, one year later after I first heard "That Woman" by Baek Ji Young on a Youtube weekly K-pop Countdown, I finally watched
Secret Garden
- in about 1.5 days (I would've watched it in less than one day, but my mom insisted I eat dinner, do some of my science fair project, and go on a walk with her). Those 1.5 days were one of the best 1.5 days of my life. Seriously. Yes, I got like close to no sleep, but screw sleep - who can sleep when you have Hyun Bin trying on a bra? (THAT SCENE OMG....)
If you have never seen this drama, you have not seen Korean drama.
Secret Garden
is the cream of the crop of Korean dramas and represents all that Korean dramas should be. There is romance, comedy, supernatural events, melodrama, action..... every episode is jam-packed with awesomeness. Hyun Bin has too much swag for his own good. Ha Ji Won acts too well for her own good. I'm surprised neither have been kidnapped or mobbed by fans...
Episodes
: 20
Genre
: romance, comedy, supernatural, melodrama
Ratings
: 10 / 10
Plot
:
Secret Garden
interweaves together the complicated lives of four individuals. Gil Ra Im is an orphaned aspiring stuntwoman trying to make a living after her father died in a fire accident. Kim Joo Won, the arrogant CEO of the Loel Department Store, mistakes her for Park Chae Rin, her acting double in a film. Joo Won becomes curious about this unconventional woman who keeps pushing him away, both unaware of his connection to her family's tragic past. To Joo Won's dismay, Ra Im seems to be more infatuated with his rival and cousin, Choi Woo Young, also know as the declining Hallyu singer Oska. To complicate matters, Oska is still in love with his ex-girlfriend, Yoon Seul, who fiercely clashes with Ra Im because of her abrupt intrusion into a supposed VIP lounge room. Even more, Yoon Seul unknowingly meets Ra Im again as the director of Ra Im's next film.
After Ra Im wins a trip to Jeju Island with Oska, Joo Won follows her and races Oska and Ra Im in dirt biking competition to prove himself worthy to Ra Im. Ra Im unfortunately gets lost in the woods with Joo Won and took shelter in a small isolated restaurant in the woods. The restaurant owner gives the two a bottle of floral wine each. After returning from Jeju Island on their separate ways, both unknowingly end up drinking their floral wine simultaneously. The morning after their coincidence, they discover that their own souls have gone into the others' body.
Main Cast
:
Kim Joo Won -- Hyun Bin
Gil Ra Im -- Ha Ji Won
Oska (Choi Woo Young) -- Yoon Sang Hyun
Yoon Seul -- Kim Sa Rang
Director Im (Im Jong Soo) -- Lee Philip
Han Tae Ssun -- Lee Jong Suk
Im Ah Young -- Yoo In Na
Secretary Kim (Kim Sung Woo) -- Kim Sung Oh
The Loves:
Chemistry: between Hyun Bin and Ha Ji Won. There is a reason why they won pretty much every drama couple award the year the drama came out... They are INSANELY good together. I buy their romance; I buy their togetherness; I buy their bitterness; I buy their jealousy. You understand from the very beginning why Joo Won is so fascinated by Ra Im. Their acting is so natural and carefree, yet polished, sophisticated, and technically advanced that it's like watching a real couple go through several mid-life crises in the span of twenty episodes. I cannot emphasize more how awesome they look together.
They are apple & cinnamon, chocolate & vanilla.
Humor: despite the melodramatic circumstances and situations, there is still a ton of humor and lol moments. I can't even count how many times I almost fell out of my chair laughing at Hyun Bin's sarcasm and amusing manner of speech. Joo Won also has this weird obsession with sequined tracksuits that he claim to be "hand-sewn stitch-by-stitch by a famous Italian designer." And then there's also the part when the two switch bodies... imagine all the things you wouldn't want the opposite gender seeing or doing with your body... LOL.
Joo Won's beloved sparkly tracksuit jacket...
Ra Im's soul in Joo Won's body... LOL
Plot twists: Secret Garden was already amazing without the body-switching supernatural part, but the fact that the director included that in the drama made the drama so much more interesting and unique. Moreover, the story behind the tragedy of Ra Im's father was also super unexpected! Just when you thought things were going the way you thought they should go, you hit another corner and something else further complicates things. Plot twists work so well in this drama.
Ha Ji Won as the badass stuntwoman, Gil Ra Im
Dynamic Characters: The four main characters create so many interesting conflicts in the drama, supplied by other minor characters, many of whom create the conflicts that enhance and drive the main plot. I have come to appreciate many of the characters because so many are dynamic and change for the better good at the end of the drama. 99% of the conflicts are resolved by the end also, especially relationships between characters. Even Secretary Kim and Ra Im's best friend Ah Young get together and have a good ending!
Joo Won's protective, condescending mother who despises Gil Ra Im with a burning passion
Oska and Yoon Seul's stubborn and misunderstood, yet, undeniable love
Crying Scenes/Acting in General: both were incredible. The best criers in this drama are Hyun Bin, Ha Ji Won, and Kim Sa Rang. The three of them nailed each crying scene with flawless perfection. Holy shit. Each time they cried, my throat swelled up and my heart hurt :( My acting was also amazing. I cannot think of an instance when I didn't buy a character's acting. Everyone felt so real and realistic (even if their personalities were exaggerated or melodramatic).
Ha Ji Won busting out her crying abilities
Joo Won breaking out those tears as he writes an emotional letter to Gil Ra Im
Hyun Bin: I shouldn't have to say much about him. He just has TOO MUCH swag. He's TOO G! His playfulness and amusing way of talking is just too much! Too hilarious! Too well-played! But seriously - this drama is my first Hyun Bin drama, and I will now watch every drama with him in it. Like actually though.
*Fangirling too much to say anything*
This kiss scene was SO HOT. One of the best kiss scenes in K-dramas.
The Character of Secretary Kim: I love Secretary Kim so much it's not even funny. Like he's suppose to be a minor character, but his role was so awesome and memorable that I consider him as part of the main cast. He is the icing on the Secret Garden cake! He is so amusing, loving, and at times super childish, but he makes such a great secretary and contrast to Joo Won's arrogant nature.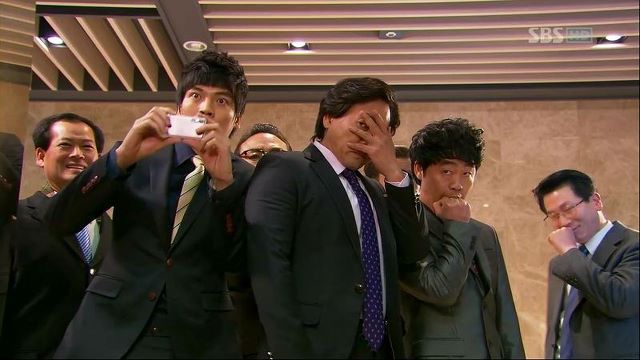 I LOVE how everyone else attempts to look away, but Secretary Kim immediately takes out his phone and gets a snap shoot of Joo Won kissing Ra Im supposedly secretly in the elevator. #SecretaryKimSwag2013
The Dislikes:
I only have one thing I didn't like about this drama. ONLY one. That's it. Everything else about this drama is perfect. And this thing isn't even that big of a deal!
Moon Bong Hong's character (Joo Won's mom): She does so much shit to Ra Im to force her to break up with her son. To the point where she doesn't even care her son is happy with Ra Im. Come on! What kind of mother would do that to her own son?! At the end, her character doesn't even change that much! She never truly accepts Joo Won and Ra Im's relationship. I guess this minor point isn't that big of a deal, but I personally wished so much for her character to get better by the end.
Together, the two rise above social expectations, tragedy, betrayal, and humanity for love...